Below is just a sampling of the exciting things happening in our department. We are very grateful to the alumni who have supported the department this year. Please visit our webpage to learn more about our innovative research, impressive teaching record, and impactful community service. We also encourage you to join our Facebook page and Twitter page. If you'd like to make a donation to support our mission of providing the best research and education in the world, please visit our giving page.
Chair Miguel Garcia-Garibay

- On Oct. 9th, we paid tribute to Paul and Lyda Boyer and celebrated the 2015 MBI Postdoctoral Awards. The celebration marked a milestone in the history of the MBI Postdoctoral Awards: 17 years of generous support from the Boyers. To learn more, visit the Paul and Lyda Boyer Postdoctoral Awards giving website.

Students from Howard University and Spelman College visited UCLA to conduct research in chemistry and biochemistry labs learning about research areas ranging from cancer research to materials science. The department has been awarded a substantial grant to fund a UCOP-HBCU initiative.

- Organic chemists Hosea Nelson and Ellen Sletten have recently joined the department. Prof. Nelson's research program is focused on the development of enabling technologies for chemical synthesis and biology. Prof. Sletten's group will exploit the unique properties of fluorinated materials to develop new diagnostic and therapeutic technologies.

- On Oct. 19th, Nobel Laureate Prof. Stefan W. Hell, Max Planck Institute for Biophysical Chemistry, German Cancer Research Center (DKFZ), was honored by the Department of Chemistry and Biochemistry with the 2015 Glenn T. Seaborg Medal.

- Alumnus Prof. John D. ("Jack") Roberts (BA '41, PhD '44) is one of the most influential chemists of the last 75 years, and it all started at UCLA! Prof. Ken Houk and Prof. Marjorie Caserio, Chancellor Emerita of UC San Diego, are spearheading fundraising for this chair to honor Prof. Roberts who is now in his 97th year.

- The annual Departmental Awards Ceremony was held at the CNSI auditorium on Nov. 6th. In addition to recognizing the efforts of our accomplished students and faculty, we had an opportunity to celebrate our department's excellence in teaching and research.

- At the June 13th ceremony 333 undergraduates received bachelor's of science degrees (238 biochemistry, 71 chemistry & 24 chemistry materials science), three graduate students received master's degrees and 34 graduate students were awarded Ph.D.'s.

- First-year graduate student Erick Harr (Tolbert group) was awarded a prestigious UC-MEXUS fellowship that will fund him throughout his graduate career. The fellowships are awarded to students who show significant promise in the fields of interest to UC MEXUS and who strengthen the intellectual ties between Mexico and the United States.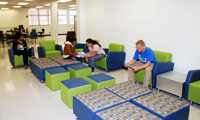 - With support from our generous alumni donors, we have made great progress with our goal of creating a center that will be the heart of student life in the department, providing students and faculty with much-needed new meeting and presentation facilities. The 6,500-square-foot former Young Hall library is currently being used as a meeting and study space for students.

- Newly minted Ph.D. Crystal Valdez (Alexandrova group) was chosen to be one of two student processional marshals for the doctoral hooding ceremony on June 11th. The processional marshals accompany the provosts, deans, and faculty into Royce Hall.

- Prof. Neil Garg and graduate students are developing a website that will give students and educators worldwide access to the tutorial that is designed to help students see the connections between organic chemistry and topics in medicine and pop culture. A successful UCLA Spark crowdsourcing campaign raised over $12,000.

- The students were part of the UCLA iGEM team made up of undergraduate students with majors across the physical, life, and engineering sciences who are working on a project to design and engineer synthetic silks with enhanced properties and new functions.

- UCLA alumni and friends of the department are invited to UCLA to give a lecture about their career paths. Following the seminar, the students are given the opportunity to talk with the speaker informally at a reception. Astronaut and UCLA alumna Dr. Anna Fisher gave a lecture in March.

- In his 20-minute talk he revealed his award-winning teaching techniques at UCLA's latest TEDx event. Prof. Garg explained how he teaches second-year students, none of them chemistry majors, to tackle problems so challenging that he himself didn't learn to solve them until he was a graduate student.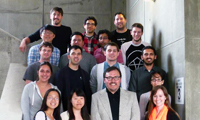 - The graduate student-led group strives to promote cultural diversity in the physical and life sciences. With the help of corporate sponsorship, members organize and host a quarterly lecture series featuring distinguished scientists from traditionally underrepresented backgrounds.