Illustrated Glossary of Organic Chemistry
B0:
In
NMR
spectroscopy
, the magnetic field experienced by the nucleus. Its magnitude is due to the Earth's magnetic field, the magnetic field applied by the
NMR spectrometer
, the magnetic field created by electrons orbiting the nucleus, plus the magnetic fields of adjacent atoms.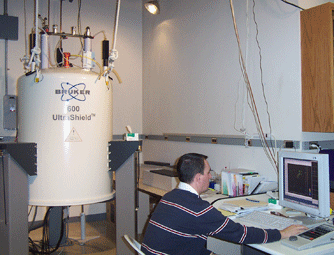 This 600 MHz
NMR
spectrometer
uses a superconducting magnet (the white cylinder to the left) that is cooled to 4 K with liquid helium.