Illustrated Glossary of Organic Chemistry




Boiling point (bp):

The temperature at which the vapor pressure of a liquid equals the ambient pressure. Condensation point is the temperature at which a vapor condenses into a liquid without a change in the temperature of the substance.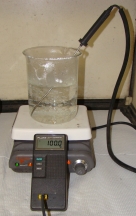 At 1.0 atm pressure the boiling point of pure
water
is 100.0
o
C.
Related terms:

Noncovalent molecular force

,

anion-cation interaction

,

dipole-dipole interaction

,

hydrogen bond

,

ion-dipole interaction

,

aromatic-aromatic interaction

,

aromatic stacking

,

pi stacking

,

London force

,

dispersion force

,

melting point

,

mp

,

evaporate

,

evaporation

,

vaporize

,

vaporization

,

distillation

,

sublimation

,

gas phase