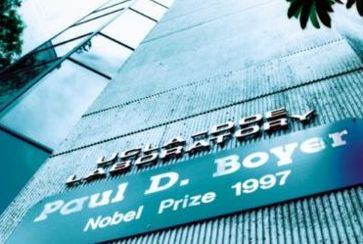 UCLA's Department of Chemistry and Biochemistry is among the best in the nation, offering students the opportunity to study with its award-winning faculty in a variety of fields, including biophysical chemistry, molecular biology, materials chemistry, bioinorganic chemistry and theoretical chemistry.

Basic research is carried out in the faculty labs and in conjunction with major multigroup efforts such as the Exotic Materials Institute or the Laboratory of Structural Biology and Molecular Medicine. Shared research interests are cultivated by collaborations, talks, seminars, regular scientific conferences and interdepartmental research units, like the Molecular Biology Institute.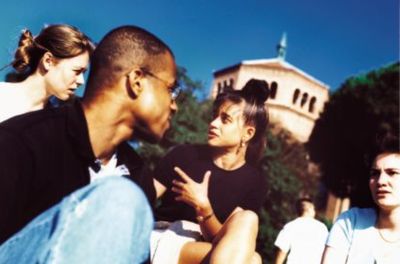 The excellence of the department's faculty has often been recognized by prestigious awards. Three members of the faculty have been awarded the Nobel Prize in Chemistry: Paul Boyer [1997], Donald Cram [1987] and Willard Libby [1960]. Faculty members have also been awarded numerous Sloan, Dreyfus and Guggenheim fellowships, and several are members of the National Academy of Sciences. The department attracts the brightest new faculty to its ranks, with many of them receiving NSF Presidential Young Investigator or Career Awards, Dreyfus New Faculty Awards, or Searle Scholar Awards.

Students who have completed the graduate programs in the Department of Chemistry and Biochemistry are regularly placed in academic positions at first-rate institutions or in private sector positions in leading biotechnology and chemical companies.
Research in the Department of Chemistry and Biochemistry crosses traditional disciplinary boundaries. Shown here is the structure of the transition state for the reaction catalyzed by orotidine monophosphate decarboxylase.

Determination of this structure in the Houk laboratory was made possible by a multidisciplinary approach uniting organic chemistry, biochemistry and physical chemistry.

Image by N. DeMello
---
[ Introduction | UCLA and Los Angeles | Graduate Studies | Biochemistry | Inorganic ]
[ Organic | Physical | Emerging Areas of Research | Facilities ]
---
This web page under construction. Any feedback or suggestions are appreciated.
Send mail to: www@chem.ucla.edu