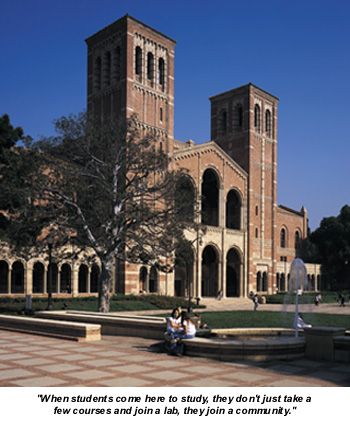 The University of California, Los Angeles is world-renowned for its excellent programs. Students come from all 50 states and many foreign countries to study here. There are more than 160 buildings housing the College of Letters and Science, plus 11 professional schools which serve some 35,000 students. Yet the campus has much more to offer than research labs, lecture halls and great libraries. A visit to UCLA's 419-acre campus is an opportunity to unwind by the inverted fountain, gaze off into the hills beyond Janns Steps, or stroll through the Franklin D. Murphy Sculpture Garden and the Mildred E. Mathias Botanical Garden. Throughout the year the campus is the place to be for film series, guest speakers and a wide array of extraordinary professional and student performances in music, theatre and dance. The UCLA Performing Arts series regularly features internationally acclaimed artist like Issac Stern, Andre Watts, Jean-Pierre Rampal, Marilyn Horne, Sonny Rollins, Wynton Marsalis, The Peking Puppet Theater, or the Bayanihan Philippine Dance Company. The campus is also home to the Fowler Museum of Cultural History.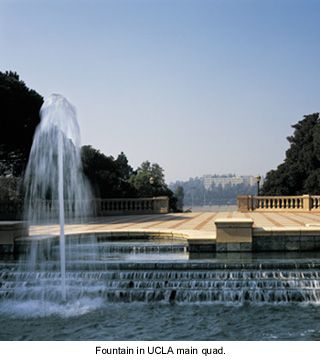 For those who like to spend their leisure time engaged in athletic pursuits, the UCLA Recreation Center offers extensive facilities for swimming, tennis, racketball, squash, basketball, weight training, aerobics and more. UCLA is also renowned for its intercollegiate sports programs. Fans of spectator sports will enjoy watching not only the UCLA football Bruins at the Rose Bowl, or the basketball Bruins at Pauley Pavilion, but gymnastics, volleyball, baseball, swimming - the full range of college athletics.

Located in an area of Los Angeles known as Westwood and bordered by the upscale neighborhoods of Brentwood and Bel-Air, UCLA is only a short drive from the famous beaches of Southern California - close enough for ocean breezes to moderate the climate, keeping the summers comfortable and the winters mild, and perfect for enjoying the wide range of athletic and recreational facilities the university offers. To the north are the Santa Monica Mountains, filled with hiking and bicycling trails. A one-hour drive leads to trailheads in the Angeles Crest Range, which culminates at the 10,040-foot Mt. San Antonio. On a mild winter day, one can come down from a morning of skiing in the mountains to a pleasant afternoon at the beach.

The natural beauty and variety surrounding UCLA and the Los Angeles basin are matched by the cultural vigor of the metropolitan area itself. Los Angeles offers all the cultural attractions and excitement one expects in a major city. This includes art museums like the Los Angeles County Museum of Art, the J. Paul Getty Museum, the Huntington Museum and the Norton Simon Museum; great music attractions such as the Los Angeles Philharmonic, the Los Angeles Opera, the Hollywood Bowl and the rock mecca on Sunset Boulevard; live theatre that runs the gamut from small, intimate productions to the most extravagant "Broadway" shows; the Dodgers; the Lakers; and every kind of restaurant imaginable. L.A. has it all!

---
[ Introduction | UCLA and Los Angeles | Graduate Studies | Biochemistry | Inorganic ]
[ Organic | Physical | Emerging Areas of Research | Facilities ]
---
This web page under construction. Any feedback or suggestions are appreciated.
Send mail to: www@chem.ucla.edu