Research Summary
The Houk group solves problems in organic and bio-organic chemistry using theoretical and computational methods and programs. Some of the group members are also involved in experimental research to test theoretical predictions and to develop new reactions, reagents, and catalysts which have been designed from theoretical investigations.
SUBGROUPS IN THE HOUK GROUP AND THEIR RESEARCH PROJECTS
UNDERSTANDING AND DESIGN OF STEREOSELECTIVE REACTIONS AND CATALYSTS
We use computational methods to learn the origins of stereoselectivity in synthetically useful reactions. This information, and quantitative calculations are used to design new reactions, reagents, and catalysts. Our goals are to understand stereoselectivity, to make predictions, and to devise and execute experimental tests of these predictions.
Christophe Allemann, Ruth Gordillo, Fernando R. Clemente, Paul Ha-Yeon Cheong, and K. N. Houk: "Theory of Asymmetric Organocatalysis of Aldol and Related Reactions: Rationalizations and Predictions," Acc. Chem. Res. 2004, 37, 558-569.
PERICYCLIC REACTION MECHANISMS, RATES, AND DYNAMICS
We use theory and computational methods to explore the transition states of pericyclic reactions, some of the most significant reactions of organic chemistry. We explore the mechanisms of cycloadditions, electrocyclizations, sigmatropic shifts, cheletropic reactions, and related processes. We are developing a general theory of substituent effects on rates and stereoselectivities of these reactions.
Kelli S. Khuong, Chris M. Beaudry, Dirk Trauner, and K. N. Houk: "Dienophile Twisting and Substituent Effects Influence Reaction Rates of Intramolecular Diels-Alder Cycloadditions: A DFT Study," J. Am. Chem. Soc. 2005, 127, 3688-3689.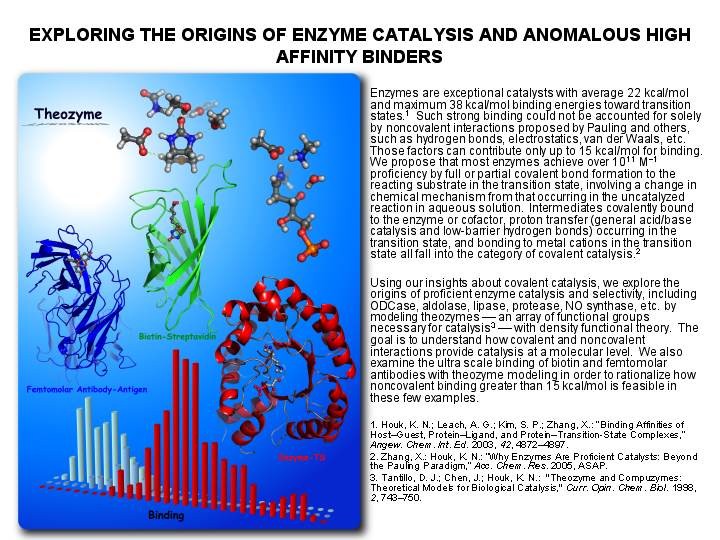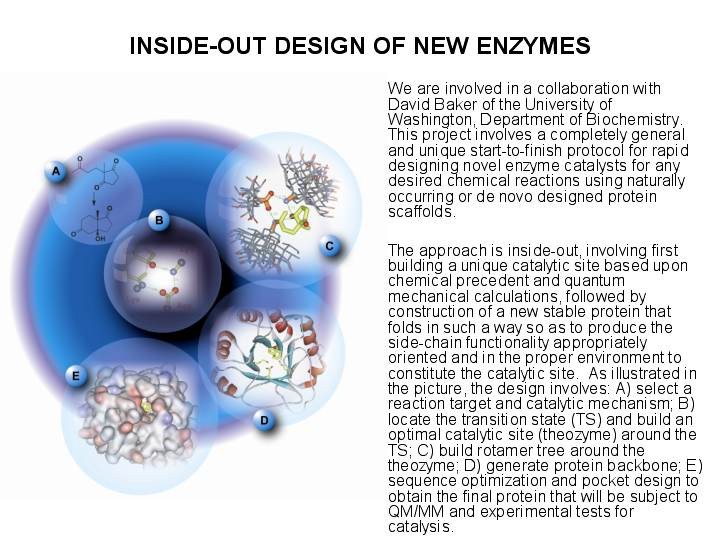 REACTIVE INTERMEDIATES IN BIOLOGY AND THE ATMOSPHERE
We use theoretical methods to explore the reactions undergone by neurotransmitters like NO and the functional equivalents such as RSNOs and NO precursors under various conditions. We learn how nitrogen and sulfur oxides react in biological systems and the atmosphere. We explore the roles of dynamics, entropy, solvation, and tunneling on the very rapid reactions of excited states, carbenes, singlet oxygen, radicals, and other reactive intermediates.
Michael D. Bartberger, Wei Liu, Eleonora Ford, Katrina M. Miranda, Christopher Switzer, Jon M. Fukuto, Patrick J. Farmer, David A. Wink, and Kendall N. Houk: "The Reduction of Potential of Nitric Oxide (NO) and its Importance to NO Biochemistry," Proc. Natl. Acad. Sci. USA 2002, 99, 10958-10963.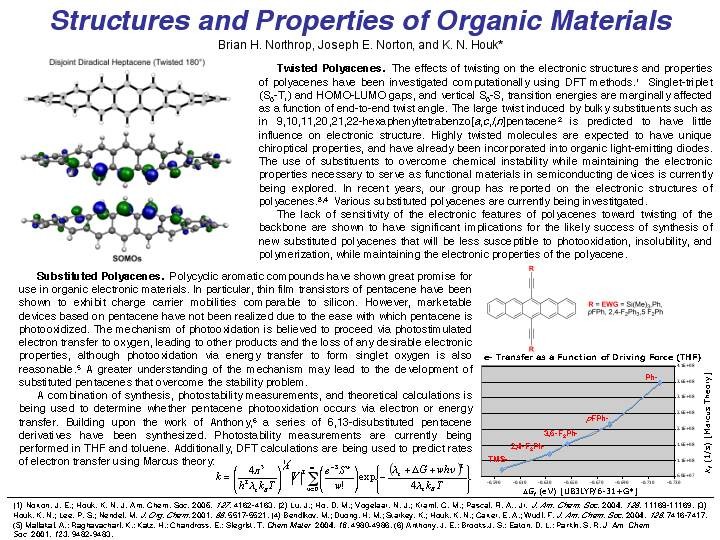 GATING IN HOST-GUEST COMPLEXES
We have discovered that conformational processes of host molecules can control the stabilities of host-guest complexes. We use theory to design gated cavitands that have a movable lid that will bind a wide range of small guest molecules, and release them only upon gate opening by a conformational change induced by heat, photochemistry, or redox processes. We undertake the synthesis and experimental studies of such controlled release container molecules.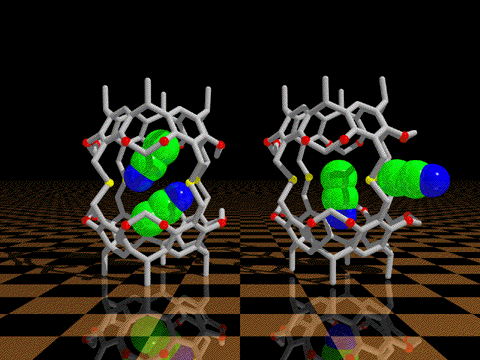 K. N. Houk, Kensuke Nakamura, Chimin Sheu, and Amy E. Keating: "Gating as a Control Element in Constrictive Binding and Guest Release by Hemicarcerands," Science 1996, 273, 627-629.